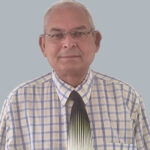 Professor Dr. E. Jeevan Mall
Dr. Mall is PhD English (Fordham University, New York 1996), PhD Education (California State University USA 2010). He has 40 years of rich experience as a professor of English at various international universities of the world. He started his career in 1979 as a lecturer in English through Federal Public Service Commission of Pakistan for teaching poetry & drama to M.A English classes at F.G. College, H -8, Islamabad. He has been Assistant Professor & Principal at various international colleges of repute. HE has worked as a Dean/ Professor of English at Ohio State University /College of Arts & Sciences, Columbus, Ohio, USA. As a Dean he managed, interalia, the following Departments:
Department of English Language & Literature
Department of Theatre, Film & Media Arts
Advance Computing Center for the Arts & Design (ACCAD)
African Studies Center
English Language & Development Center
Department of Arts
Department of Heritage
Department of Performing Arts
Dr. Mall has 35 Publications in the Journal of international repute recognized by HEC, Pakistan. He teaches classical poetry, romantic poetry, communication skills as well as Technical Report Writing; drama & theatre. His specialization is in romantic poetry & literary theory. He has rich experience in professional actualization of the teaching staff, at various levels. He is also a Master Trainer. He has rich experience to work in the role of senior academic leader in variety of setting where skills of a professor having strong personal testimony is required. He has ability to command and implement program initiative and lead effectively within team environment, particularly, for the improvement of communication skills in the department of communication skills; Business communication & Technical Report Writing. He believes in the philosophy of market orientation skills the improvement of Writing Skills; excellence of education for the students & the staff. He has the expertise to inspire esprit de corps of the staff; capture and earn the trust of the staff and students; mental and physical prowess to coordinate diverse activities; attitude & behavior of the staff; personal development to achieve desired results that includes excellence in education & skills development of the staff & students. He has returned Pakistan from the USA for his passion to improve the education & skill development of the young generation of Pakistan.
He has genetic endowment as his father Demis J. Mall was Professor of English & His father elder brother Dr. victor Mall (PhD English 1948 Cambridge University, London) was Principal Gordon College, Rawalpindi. His grandfather was Principal Dera Doon Army Academy, India. He Belongs to Sindhi Hindu background.