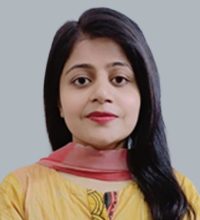 Lecturer
Faculty of Heritage
Ms. Shaista Murtaza is a devoted educator driven by a profound enthusiasm for both teaching and learning. With a remarkable proficiency in the English language, instructional techniques, coordination, and communication, she stands as a highly capable and motivated individual. Her academic journey includes a BS Hons. from Shah Abdul Latif University, Khairpur Mirs, and an MPhil from Iqra University, Karachi. Her MPhil research delved into "Analyzing Reading Habits of Undergraduate Students from Rural Sindh in Pakistan."

Currently pursuing a Ph.D from Sindh University Jamshoro, Ms. Shaista serves as a Lecturer in English (Linguistics) at Aror University of Art, Architecture, Design, and Heritage, Sukkur. Previously, she held the position of Subject Specialist (English) at IBA Public School Sukkur.

With her adeptness in the English language, Ms. Shaista effectively engages with students, facilitating a thorough grasp of the subject matter. Her teaching and training skills enable her to convey knowledge in an interactive manner, fostering a positive learning environment. Alongside her strong coordination and communication skills, she showcases adaptability and optimism, crucial qualities that empower her to tackle challenges innovatively. Her receptiveness to change and continuous learning enriches the educational experience she offers, generating a motivating ambiance that propels students toward realizing their full potential.

Anchored in unwavering commitment to her profession, Ms. Shaista goes the extra mile to ensure her students receive the finest education possible. Her dedication manifests through personalized student attention and a dedication to professional growth, allowing her to remain current with the latest educational methodologies.