Introduction
Director Message
---
Welcome
We are marking a Memorandum of Understanding (MoU) with various associations/universities with the goal to achieve substantial research propositions for joint research ventures and taking care of modern issues through the specialists accessible at the university who have many years of involvement with their particular preparation and research. You can contact our office for additional information and conversations which will work with the cycle for shared participation and combination.
Dr. Sabab Ali Shah
Director
Office of the Research, Innovation and Commercilization (ORIC)
Aror University, Sukkur
About ORIC
The Higher Education Commission (HEC) aspires to cultivate a dynamic and globally competitive research ecosystem in Pakistan, one that contributes significantly to economic prosperity, the well-being of our nation, and the dissemination of knowledge through cutting-edge research practices. The promotion of research is at the forefront of HEC's strategic goals. Through its initiatives aimed at enhancing the research process and fostering awareness, HEC has witnessed remarkable improvements in research quality and outcomes within universities and institutions across the country. Pakistan has earned international recognition as an emerging leader in various research disciplines, marked by a substantial increase in globally cited research publications.
However, this marks just the beginning of our journey, and it is imperative that we not only sustain this momentum but also address matters of economic, social, and intellectual significance and their impact on the research landscape. To realize this objective, HEC has initiated the integration of research initiatives within Higher Education Institutions (HEIs) and is committed to establishing robust and fully operational Offices of Research, Innovation, and Commercialization (ORIC). ORIC will provide essential strategic and operational support to the university's research initiatives and will play a central role in advancing the university's research outcomes.
Introduction:
The establishment of the Office of Research, Innovation, and Commercialization (ORIC) at Aror University of Art, Architecture, Design, and Heritage in Sukkur, in accordance with HEC guidelines, marks a significant milestone. ORIC is a dedicated department tasked with the promotion and facilitation of all research activities and programs on campus. It plays a pivotal role in fostering university-industry collaborations for the practical application of research findings. Research conducted in higher education institutions, such as universities, serves as the cornerstone of informed policymaking, providing invaluable academic expertise for decision-makers.
Applied Research at Aror University of Art, Architecture, Design, and Heritage, Sukkur not only aids governmental bodies, non-governmental organizations, international entities, and businesses in their decision-making processes but also nurtures individuals into scholars. Aror University is committed to establishing a benchmark of excellence and pushing the boundaries of research. We are dedicated to creating a culture, providing the necessary infrastructure, and fostering an environment that encourages and supports our academic community. Every research project we undertake is fueled by our unwavering commitment to making a positive impact.
Vision:
The Office of Research, Innovation, and Commercialization (ORIC) at Aror University of Art, Architecture, Design, and Heritage, Sukkur, aspires to fortify and cultivate a robust research culture within our institution. We aim to forge meaningful connections with industry partners, fostering collaborative endeavors that accelerate the generation and dissemination of knowledge. This dedication aligns with our university's core mission of advancing higher education and contributing to the establishment of a knowledge-driven Higher Education Institution (HEI).
Mission
The Office of Research, Innovation, and Commercialization (ORIC) is dedicated to shaping, expanding, nurturing, and realizing the research initiatives of the university. Our goal is to establish direct connections between research endeavors and the educational, societal, and economic needs of both the university and its local community. A primary mandate of ORIC at Aror University is to uphold research quality at international standards. Moreover, we are here to offer guidance and support to researchers who seek to translate their innovations into commercial ventures or embark on entrepreneurial journeys rooted in their research.
In the pursuit of this mission, ORIC holds the responsibility of ensuring that all research agendas and strategies align with the fundamental principles of academic freedom, professional integrity, ethical conduct, and strict adherence to the university's policies, legal obligations, and operational standards.
Objectives
The Objectives of the Office of Research, Innovation, and Commercialization (ORIC) at Aror University of Art, Architecture, Design, and Heritage encompass:
Facilitating Research: ORIC is committed to facilitating research endeavors for faculty, staff, and students, fostering a culture of inquiry and discovery.
Alignment with Research Goals: We actively support the university's strategic research directions and policies, ensuring that research activities are in harmony with our institutional vision.
Integration of Research and Education: We strive to enhance the seamless integration of research and education at all levels within the university, promoting a holistic learning experience.
Community Impact: Our mission extends to translating research outcomes into tangible benefits for the community, promoting innovation, and addressing societal needs.
Intellectual Property Management: ORIC is entrusted with the management of intellectual property (IP) arising from university research, including patents, trademarks, copyrights, and trade secrets, safeguarding and leveraging these assets.
Economic Development: We actively contribute to regional economic development by facilitating the commercialization of university research, supporting entrepreneurial initiatives, and fostering collaborations with industry partners.
Securing External Research Support: Our efforts include expanding external research support through partnerships, grants, and collaborations, further advancing our research mission.
These objectives collectively guide ORIC's commitment to fostering a thriving research ecosystem within Aror University, driving innovation, and creating positive impacts both within and beyond our academic community.
Organogram: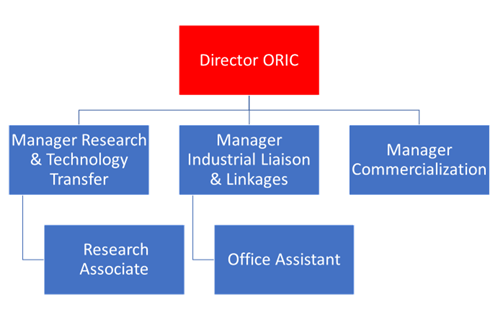 Our Team