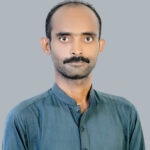 Lecturer
Faculty of Photography, Fine and Performing Arts
Kashif Ali, a lecturer in FP2A is a passionate and versatile artist with a Bachelor's degree in Fine Arts from National College of Arts and a Master's degree in Art and Design from Beacon house National University. Kashif's expertise includes drawing, calligraphy, sculpture, and painting, and he excels in contemporary art. With a keen interest in exploring new mediums and techniques, he constantly expands the boundaries of his creativity. Kashif's work extends beyond the commercial art project, as he actively participates in exhibitions, showcasing his thought-provoking creations. Inspired by his surroundings and personal experiences his art invites viewers to reflect and engage with the narratives he presents. With an unwavering passion for art and a commitment to continuous growth, Kashif Ali's portfolio offers a captivating journey into the realm of contemporary art, where boundaries are pushed and creativity thrives. He has participated in several national shows that gained lot of admiration.
Exhibitions
• "Banana Split" Lakir Art Gallery Lahore 2022.
• "Young Artist Awards" Alhamra Art Galleries, Lahore, 2022.
• "Degree Show" Beacon House National University, Lahore 2021.
• "Streaming Silence" Group Show by The Roadside Lahore 2021.
• ArtFest Karachi" At Sambara Art Gallery, Karachi, 2021.
• "A Site for Sight" Lahore Biennale 02, 2020.
• "Open Day Exhibition Beacon House University, 2019
• "Qutb's Show" OArt Space Lahore 2018.
• "Configuration" Group Show, Tanzara Art Gallery, Islamabad 2017.
• "Untitled" Group Show, Art Chowk Gallery, Karachi. 2017.
• "Painting" Two-Person Show Indus Valley School of Art and Architecture Gallery, Karachi, 2017.
• "Degree Show" Zahoor Al-Ikhlaaq Gallery, Lahore 2016.