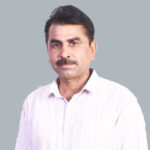 Assistant Professor
Faculty of Architecture and Town Planning
Ar. Khuda Bux Phulpoto is perusing his PhD from MUET Jamshoro, he acquired his masters from MUET and B.Arch from NCA Lahore, As an Architect his professional expertise are in Preparing Architecture proposals, architectural sketching, making of tenders, working sharp and miscellaneous drawings, archeological architecture, innovative design work and details, project and construction management, billing, QAQC, approvals of submittals. He is also worked as thesis advisor at CEAD and MUET Jamshoro.
Publications
[T1] Study for conservation of heritage buildings in kotdiji khairpur Sindh.