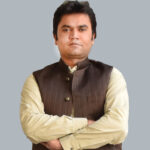 Dr. Muhammad Qasim Sodhar
Faculty Incharge/Assistant Professor
Faculty of Heritage
Dr. Qasim Sodhar is serving as an Assistant Professor and the Look After Incharge Faculty of Heritage at the Aror University of Art, Architecture, Design & Heritage, Sukkur, Sindh. He did a Bachelor's in International Relations from the University of Sindh, Jamshoro, and a Master's and M.Phil in Pakistan Studies from the National Institute of Pakistan Studies (NIPS), Quaid-i-Azam University, Islamabad. He earned his Ph.D. in World History (Global Studies) from the Institute of Global Studies, College of Liberal Arts, Shanghai University, Shanghai, China. He has published research papers in national and international research journals. Also, he has published more than 400 op-ed articles in different newspapers and magazines in English, Sindhi, and Urdu languages. He has been writing articles for English newspapers; Daily Times, The Friday Times, and South Asia magazine in English, Daily Kawish in Sindhi, and Online Blogs for www.humsab.com.pk in Urdu.
His book in the Sindhi language titled "Feminism aien Sindhiani Tehreek ji Jidojihad [Feminism and the Struggle of Sindhiani Tehreek] published by Roshni Publication in 2021, and a Book Chapter in English, titled "The Impact of Sino-Soviet Split on the Left Politics in Pakistan." In China and South Asia: Changing Regional Dynamics, Development and Power Play, 1st ed. New Delhi: Routledge also published in the same year.
Dr. Qasim has presented research papers at national/international conferences held in China and Pakistan, and a paper at the 25th Congress of DAVO held in Frankfurt, Germany. Previously, he had been teaching in the Department of Pakistan Studies, National University of Modern Languages (NUML), Islamabad, as a Lecturer (on a contract basis). He had also taught at the National Institute of Pakistan Studies (NIPS), Quaid-i-Azam University, Islamabad, where he served as an IPFP Fellow (equivalent to a Tenured Assistant Professor on a contract basis).