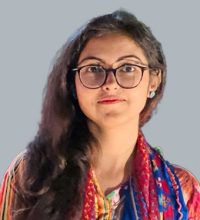 Lecturer
Faculty of Heritage
Ms. Fatima Dayo is an enthusiastic educator with a diverse academic background including an MPhil in English Linguistics from Shah Abdul Latif University, Bachelors in English from the National University of Modern Languages (NUML), Islamabad, and a Bachelors in Education; she possesses a solid foundation in language and education.

She is working as a Lecturer in English (Linguistics) at Aror University of Art, Architecture, Design and Heritage, Sukkur, and has been working as a teacher for the English Works Program at the U.S. Embassy, Islamabad. Ms. Dayo is committed to bringing a positive change in society through education. Her expertise extends to serving as visiting faculty at Sukkur IBA University, contributing as a supervisor for English language assessments, and holding positions as a senior English teacher and Subject Lead at renowned educational institutions. Actively involved in her field, Ms. Fatima is a member of the TESOL International Association and an Executive Committee Member for the Pakistan US Alumni Network (PUAN), underlining her commitment to excellence in language education and alumni engagement.

Through her consistency and hard work, she has earned prestigious certifications including a Google Certified Educator and a Microsoft Education Expert (MIE), along with dynamic participation in professional workshops like the TESOL International Convention and OPEN English Language Expo, she has refined skills in communication, management, and online teaching. With strong organizational affiliations, commendable achievements, and a commitment to excellence, Ms. Fatima Dayo stands as a dedicated educator and an advocate for positive change.