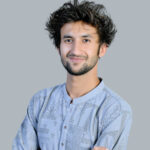 Ali Murtaza (On Study Leave)
Lecturer
Faculty of Photography, Fine and Performing Arts
Ali Murtaza is lecturer in FP2A and a talented artist with a Bachelor of Fine Arts degree from CEAD, MUET/SABSU, Jamshoro. He is a multi-disciplinary artist with a wide range of skills and experience in painting, drawing, graffiti/murals, digital art, and tattoo art. Ali Murtaza has showcased his art in multiple exhibitions and is known for his ability to blend different art forms and styles. Ali Murtaza's work has been recognized and appreciated by many, and he has showcased his artwork at various exhibitions. He participated in the "Påp 'KélCHærR" exhibition at the Full Circle Gallery in Karachi and was also part of the "Emerging Artists Exhibition" at the National Art Gallery in Islamabad. Ali Murtaza is a talented artist and educator who made significant contributions to the art world in Pakistan. His zeal for art and teaching, combined with his resourcefulness and proficiency, makes him an inspirational asset to the art community and Aror University.
Exhibitions
• "Påp 'KélCHær®" Full Circle Gallery, Karachi, 2023.
• "Emerging Talent Exhibition 18", VM Art Gallery, Karachi, 2023.
• "Pop-Up Show", ArtChowk Gallery, Karachi, 2022.
• "Pehchaan", ArtCiti Gallery, Karachi, 2022.
• "Well, Come Back Home", Dual Gallery Show, Koel + Full Circle, Karachi, 2022.
• "Broadcast Vol. I", O Art Space, Lahore, 2022.
• "ArtFest Karachi by Abdul Jabbar Gull, Sambara Art Gallery, 2022
• Research and Technology Showcase, Expo Centre, Karachi. 2022.
• "Degree Show", A.R. Nagori Gallery, Jamshoro, 2022.
• "Let's Resume Life" Sindh Museum, Hyderabad, Sindh. 2021.