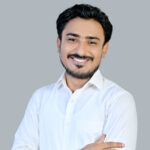 Lecturer
Faculty of Heritage
Rashid Ali is a highly qualified and experienced archaeologist, currently serving as a lecturer in the field at the Faculty of Heritage. He holds an M.Sc. and MPhil from Quaid-i-Azam University Islamabad and is currently pursuing his Ph.D. at the same institution.
With over nine years of experience in the field of archaeology, Rashid Ali has conducted numerous excavations and surveys across a range of locations in Pakistan, including Islamabad, Taxila, Kashmir, Gigit, KPK, Punjab, and Sindh. He is particularly renowned for his expertise in the Buddhist period in Sindh and is considered one of the leading authorities on this topic in Pakistan.
In addition to his field experience, Rashid Ali also has a strong teaching background, with over five years of experience at some of Pakistan's leading universities.