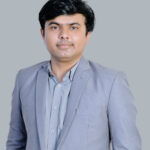 Lecturer
Faculty of Architecture and Town Planning
Engr. Sadaqat Hussain is a post graduate civil Engineer, currently he is serving as a program In charge of civil Engineering, he has more than 5 years Experience in field of teaching civil engineering courses, through which he have a strong command for conducting lab sessions and academic courses.
Publications
[T1] 2022, Strength Properties of No-fines Concrete with Supplementary Cementations Materials. Published in QUEST Research Journal.